Personal Trainer North York - We Come To You
Trainer Pro will assess and match you with an expert personal trainer who will help you achieve the fitness goals you have always dreamed of. Don't wait anymore, this is the time to take the first step and sign up for our complimentary assessment with a Personal Trainer in North York.
In-Home Personal Trainer

North York
Our In-Home Personal Trainers in North York will help you reach your fitness goals.
Trainer Pro provides the absolute best personal trainers in North York, scheduled at your convenience at a location that works best for you. Our in-home personal trainers in North York come directly to you. Working out shouldn't have to be hard, our trainers are available when you need them and will inspire, challenge, and empower you to reach the fitness goals you have set for yourself. You will see huge changes in your fitness levels, possibly even changes you have never seen before.
At Trainer Pro, we have selected the best personal trainers in North York, and we will provide all the tools, guidance, and support to help you look on the outside, the way you feel inside.
WHY TRAINER PRO IS FOR YOU
Beginner Friendly Classes
Even if you are just starting or a professional, we have the exact personal trainer ready for you.
If we can't help you get the results you have always wanted, we guarantee your money back, no questions asked.
We have a track record of helping hundreds of people just like you, every personal trainer creates unique and specific workout programs for personalized success.

Our personal trainers are carefully picked in North York for your fitness needs and are dedicated to helping you reach your fitness goals.
We know that you want to feel and look your best, and our personal trainers are dedicated to helping you achieve that, all from the comfort of your own home.
We'll take the time to guide you with our free personal assessment, even online!
Our private sessions with a personal trainer in North York are the top way to efficiently get to your fitness goals. You get 100% attention from our personal trainer so you can own your workout and achieve results much faster. Our personal trainers come to you anywhere in North York. Package pricing starts at $62 per session.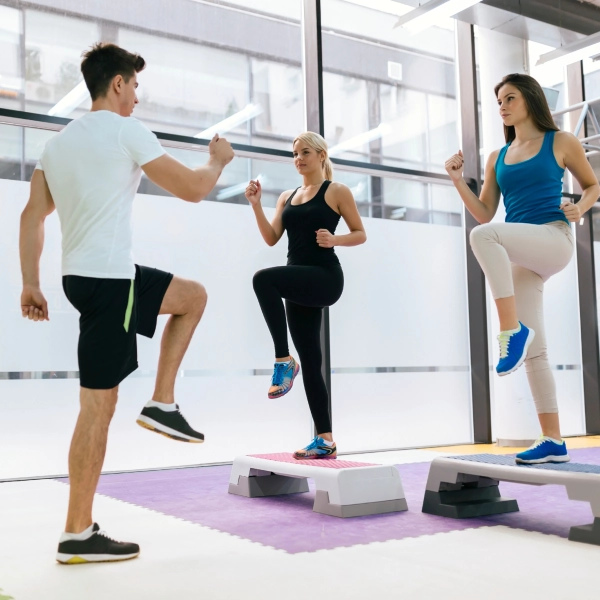 SEMI-PRIVATE

PERSONAL TRAINING
We are happy to also provide semi-personal training in North York, you can work out with a partner or small groups. You can train with either a spouse, a friend, or even your colleague! Training is still completely customized to each one of you, interactive, and fun! Best of all, our Trainers come to you anywhere in North York. Semi-private personal training in North York starts at $40 per person and $24 per person for group training.
IN-HOME PERSONAL TRAINER

IN NORTH YORK WILL HELP YOU
Putting together weight training and high-intensity interval training, our personal trainers will help you shred, even after you complete your workout.
Our exercise programs are custom-created around your body with functionality in mind. Engaging both your body and mind during the workout is the key to building strength.
Isolation and compounding exercises combined with high-volume workouts, will pinpoint your muscles and create brand new muscle growth way faster and more efficiently than just traditional weight lifting.
We create training programs specifically built to improve your posture and enhance your range of motion. Reducing the chances of injury and completely removing body pain from your life.
Male Fat Loss


and Muscle Building in North York
The best men's personal trainers in North York are available at Trainer Pro. Our personal trainers use tried-and-true techniques backed by science and expertise to deliver the greatest results possible for your body type in the shortest amount of time. With the help of our personal trainers, you will develop consistency and train your body to achieve your fitness objectives while learning and developing all the skills necessary to ensure long-lasting results.
Female Fat Loss

and
and Strength Training in North York
Our hand-selected female personal trainers in North York are chosen exclusively for their skill, experience, and education in assisting women to not only lose weight but also build stronger body. Male and female hormones are completely different from one another, as are their effects on age, lifestyle, and even other women. Before developing a bespoke plan, we will evaluate your health, way of life, and goals in order to achieve your fitness goals as quickly and effectively as possible without resorting to harsh measures.
We'll take the time to guide you with our free personal assessment, even online!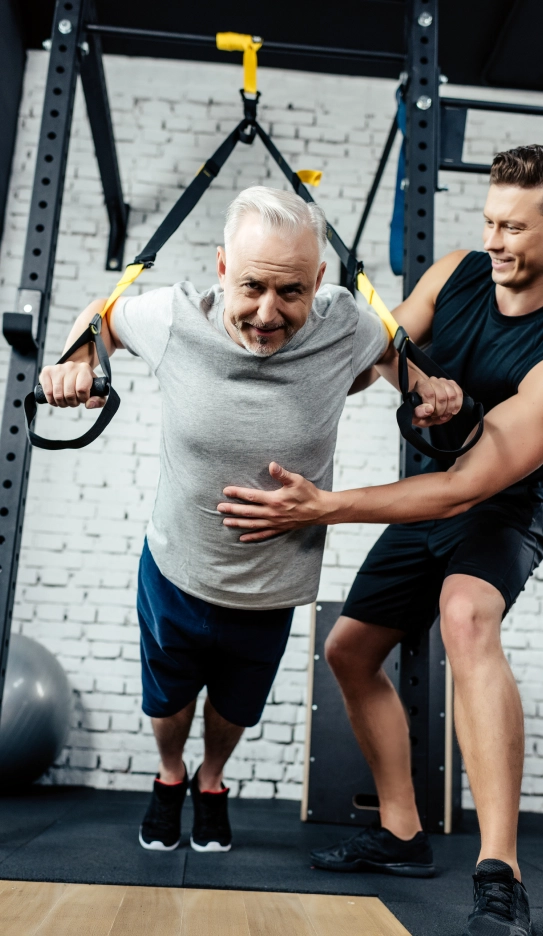 STEP 1: SIGN UP FOR YOUR FREE ASSESSMENT
We will call you to discuss your fitness objectives and learn more about your health and any mobility difficulties that need to be taken into account before you even set foot in a gym. Then, based on your fitness requirements, personality, schedule, and location, we handpick a personal trainer in North York. Once you and your trainer meet, you will collaborate on a thorough assessment. Your personal trainer will guide and review some activities to gauge your current level of physical fitness.
STEP 2: WE CREATE A CUSTOM TRAINING PLAN
Your trainer will develop a personalized plan with attainable and repeatable targets based on the results of your initial evaluation. The activities in this plan will be specifically tailored to your physical limits and will be based on your fitness goals. You will be pushed to your physical limits by the resistance and weights you use during your workout.
STEP 3: TRAIN WITH CONSISTENCY
You and your personal trainer will start putting your personalised training plan into practice after it has been created. Your personal trainer will modify and tweak your routines as you go, keeping you consistently at the top of your peak performance. Your workout will keep changing, and your trainer will keep things interesting and enjoyable.
STEP 4: CELEBRATE YOUR MILESTONES
The best sensation you've ever experienced might be experienced when you achieve your intended fitness goals. At Trainer Pro, we are aware that achieving your goals and observing your improvements can increase your motivation to continue working out. This is our favorite part, and we enjoy helping our customers accomplish their fitness objectives.
We'll take the time to guide you with our free personal assessment!
FAQ:

PERSONAL TRAINERS IN NORTH YORK
Where is training conducted?
The training can take place in the comfort of your own home, workplace, or condominium. Our trainers are planned around your availability, so you may still complete your daily tasks.
How do you choose your trainers?
We carefully choose and work with personal trainers who have earned the highest degrees and certifications possible. Because of our thorough verification process, we only deal with personal trainers in North York who demonstrate great experience and a strong commitment to the well-being of their customers. You can trust that our carefully selected trainers are dedicated experts who will guide you through your fitness journey with the utmost expertise and knowledge.
Will I experience better results with a personal trainer than training on my own?
Working with a personal trainer is like using a fine-edged knife for cooking instead of a dull knife. Our North York personal trainers are experts at maximizing your outcomes. This means spending less time in the gym and more time enjoying life. Working out with a personal trainer will also keep your accountable on the days you just don't feel like working out.
What will in-home personal training get me?
Custom Training Plan: Based on your specific fitness needs and goals, our trained team will design a fitness plan just for you. This comprehensive plan contains personalized workouts and routines designed with your target level of fitness in mind. Our specialists will also provide nutritional recommendations to get the greatest results in line with your goals.
Body Composition Analysis: As part of our personal training program, we conduct a thorough body composition analysis. This examination measures your lean body mass, muscle mass, and body fat percentage precisely. By establishing this baseline, our trainers can easily track your progress over time and make any program adjustments.
Accountability and Motivation: Our dedicated personal trainers are committed to providing you with the motivation and support you need to succeed by providing you with encouragement and accountability. If you find it difficult to maintain your fitness goals on your own, this assistance will be very beneficial. With frequent check-ins and encouraging words, our trainers will assist and motivate you along the journey.
Continuous assistance: As you complete your program, your personal trainer will give you ongoing assistance. This requires consistent inspiration, accountability, and determination to keep you motivated and goal-oriented. Your trainer will provide insightful feedback on your progress, modify your program as needed, and advise you on dietary modifications to help you achieve your goals faster.
Is getting a personal trainer in North York expensive?
In-home personal training is considerably more affordable than most people believe; consider it an investment in your health and future. We have packages to suit any budget. To discover more, schedule a complimentary assessment with us!
What if I am unable to attend my scheduled training session?
Not to worry! We understand that life might occasionally interfere with your exercise goals. We can gladly reschedule your workout if you notify us 24 hours before your booked appointment.
How often do I exercise every week?
We always advocate meeting with your trainer 2-3 times each week for the greatest results. We will work with you to ensure that our personal trainer in North York fits into your hectic schedule so that you can work out in the morning, afternoon, or late. Our packages are designed with your timetable in mind.
Do you solely service North York?
Certainly not! We also have personal trainers in several various locations in the GTA, including:
MISSISSAUGA
BRAMPTON
TORONTO
ETOBICOKE
MARKHAM
VAUGHAN
NORTH YORK
RICHMOND HILL
SCARBOROUGH
OAKVILLE
MILTON
Do I need to get in shape before I begin?
Certainly not! The best way to begin is with the correct direction and assistance. It is frequently less efficient and takes significantly longer to do it alone. We can help you get in shape faster and, more importantly, maintain your fitness level.
Is there anything I need to have at home for the training?
The most incredible aspect about in-home personal training in North York, or any place, is that the personal trainers are true specialists at providing a thorough and effective workout using only body weights. They will raise your heart rate and target individual muscles all throughout your body by using a range of exercises. You will be astounded by the results you may accomplish without using a gym.
Is North York in-home personal training expensive?
This is absolutely subjective, and it may sound cliche, but hiring a personal trainer is an investment in your health and future. Personal training in North York is a high-end service that can cost up to $200 per week. However, the value you are obtaining is incredibly high. You will receive not only a skilled personal trainer but also a customised workout regimen and diet plan. You will also have access to the trainer throughout the week if you have any questions or concerns. If personal training packages are out of your price range, there are numerous additional ways you can collaborate with us.
Not looking for personal trainers in North York? Check out the other cities we serve!
Not looking for personal trainers in Scarborough?
Check out the other cities we serve!
DON'T WAIT TO START


FIRST SESSION IS ON US!
We're looking forward to connecting with you and going over ay questions you may have on starting your journey. Leave your contact information with us here, we take a human approach to setting you up with the right trainer, so we'd like to learn alittle bit more about your and your goals.